How to approve an access request
If a user has made a manual request for access to a resoure that you own, you will receive an e-mail message advising you of the pending request.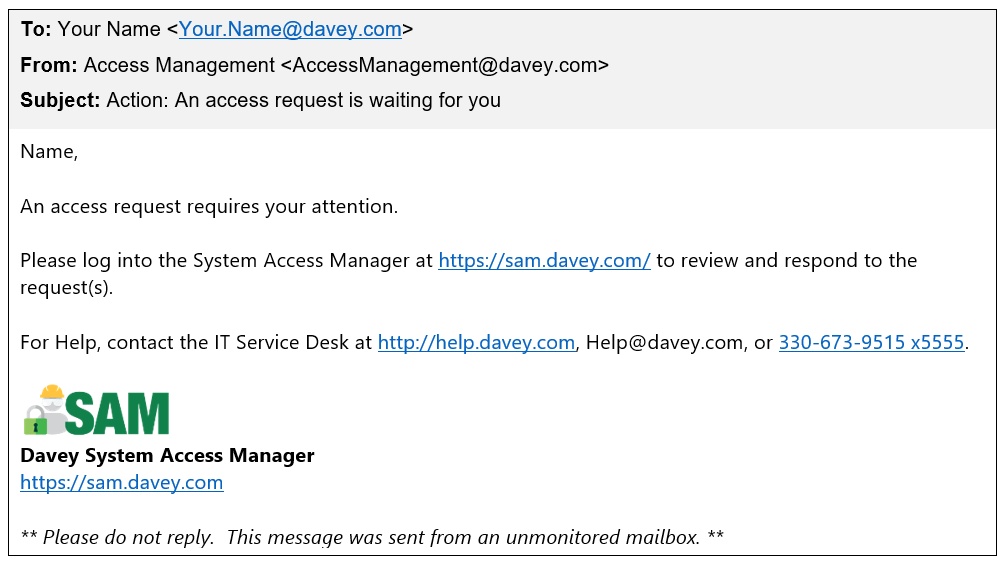 Step 1: Sign into the System Access Management Portal at https://sam.davey.com
Please review and update your profile information. If you haven't provided a mobile phone number or alternate e-mail address, please do so at this time. If you ever forget your password, we can send you a message any time of the day using these contact methods to help you reset it, otherwise you'll have to call the IT Service Desk during business hours.
Step 2: Click on the Approvals tab at the top of the page.

Step 3: A list of requests will be shown. Requests that have not been approved yet are listed with a status of Pending.
The beneficiary is the user who will receive access if the request is approved. The submitted by user is the person who created the request.
If you approve the request click on the checkbox next to the request you approve and click the APPROVE button at the bottom of the list.
If you wish to deny the request, click on the DENY button instead, or if you think someone else should approve this request, click REASSIGN and select someone else to review this request.
To get more information on a specific request, click on the little triangle to the left of the request ID.