How to change your password
You will need to change your password periodically. As your password gets within a couple weeks of expiring, the system will e-mail you that you need to log in and change your password.
Step 1: Log into the System Access Management Portal at https://sam.davey.com. You can use either your Davey E-mail address or User ID to identify yourself.
Step 2: Review and update your profile information.
If you haven't provided a mobile phone number or alternate e-mail address, please do so at this time. If you ever forget your password, we can send you a message any time of the day using these contact methods to help you reset it, otherwise you'll have to call the IT Service Desk during business hours.

If you'd like your mobile number to be published in the online employee directory, set the Publish Number option to Yes. If you only want to use your mobile number for password reset assistance, set this option to No.
Step 3: Click on the My Password tab at the top of the page.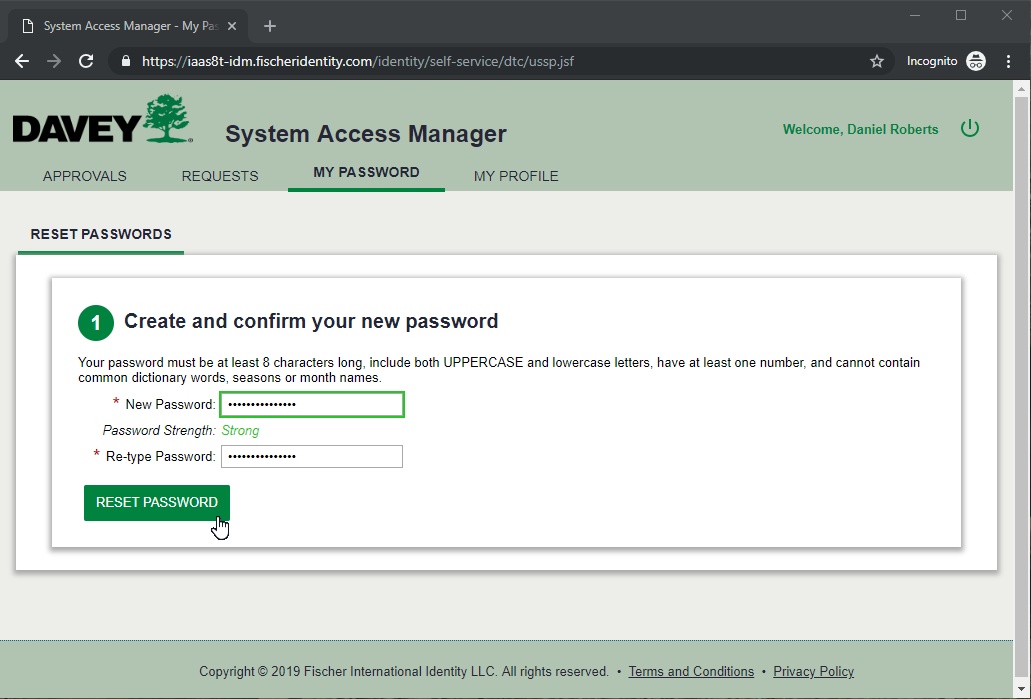 Step 4: Enter your new password at the prompts and then press the RESET PASSWORD button. If your password does not meet the minimum complexity rules, the system will tell you what to fix to make it comply with the policy.
Dictionary Words
Your password will be rejected if it contains any of the following list of words or number strings:

000                         
012
111
123
222
234
333
345
444
456
555
567
666
678
777
789
888
890
999
1234
1990
1991
1992
1993
1994
1995
1996
1997
1998
1999
2000
2001
2002
2003
2004
2005
2006
2007
2008
2009
2010
2011
2012
2013
2014
2015
2016
2017
2018
2019
2020
2021
2022
2023
2024
999999999
1234567890
aaa
adsf
Asdfghjkl
africa
alabama
alaska
america
april
arizona
arkansas
august
autumn
baseball
bbb
birthday
blueberry
bluefish
browns
bucket
calendar
california
camaro
canada
carolina
ccc
chainsaw
changem3
changeme
chicago
chocolate
cleveland
colorado
connecticut
cowboys
dakota
dakota
davey
daveytree
day
ddd
december
delaware
detroit
diamond
drowssap
DT?C
dumbass
east
eee
elm
fall
february
fff
florida
football
friday
georgia
ggg
golf
goodbye
gulf
hamilton
hampshire
hawaii
hello
hhh
hunter
idaho
iii
illinois
indian
indiana
iowa
island
january
jersey
jesus
jjj
july
june
june
kansas
kentucky
kkk
lll
louisiana
maine
march
maryland
massachusetts
may
mexico
michigan
minnesota
mississippi
missouri
mmm
monday
montana
nebraska
nevada
new
newpass
nnn
north
november
oak
oaktree
october
ohio
oklahoma
ooo
orange
oregon
p@$$w0rd
packers
password
patriots
pennsylvania
portland
ppp
purple
qqq
qwerty
ravens
rhode
rrr
sap
saturday
september
south
spring
sss
starwars
steelers
summer
sunday
sunshine
tcot
tennessee
test
texas
thursday
toronto
tree
trees
tribe
trimming
truck
ttt
tuesday
utah
uuu
vermont
virginia
vvv
washington
wednesday
welcome
west
winter
wisconsin
wolftree
wordpass
www
wyoming
xxx
yellow
york
yyy
zzz